WHAT IS THE DIFFERENCE BETWEEN A T1 AND T2 DRAIN?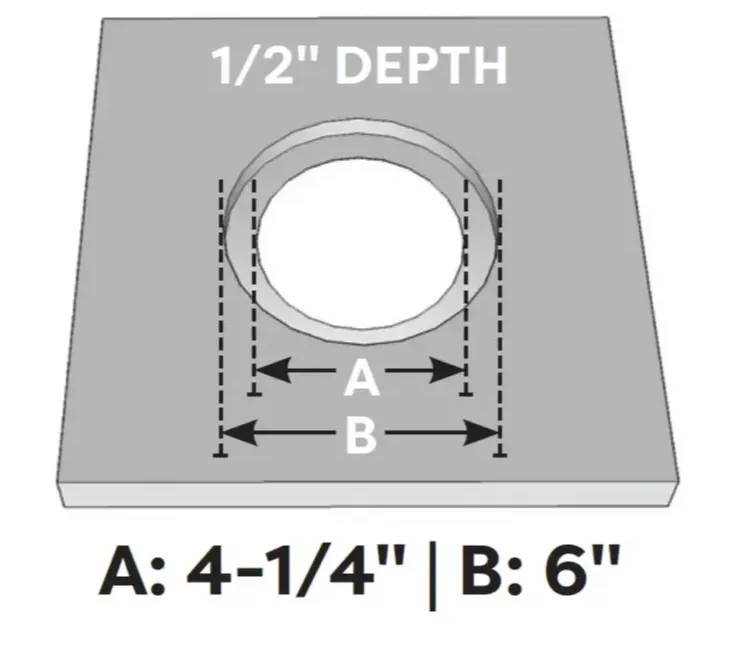 T1 Drain = 1/2" depth at drain, low profile drain set. T1 Drains will accommodate Oatey 130 Series shower drains purchased through ShowerBase.com. All standard KBRS shower bases are manufactured with a T1 drain type.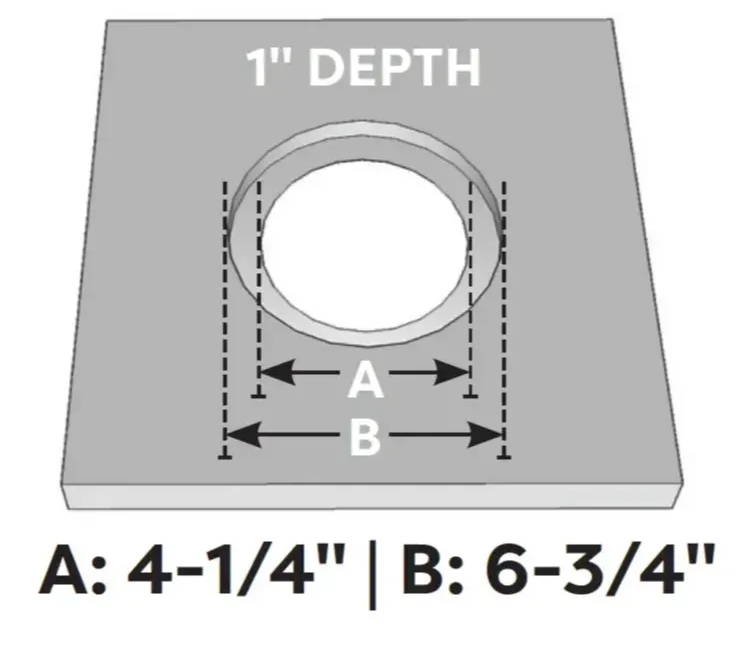 T2 Drain = 1" depth at drain, generally for deeper drain sets. T2 Drains will accommodate most other drains where the strainer is no wider than 4 ." wide and no more than 1" tall. T2 drains can be manufactured for custom shower bases upon request.
WHAT KIND OF SHOWER DRAIN IS RECOMMENDED?
A standard (PVC or ABS) 3-piece tile shower drain that uses a "clamping ring", will work fine (included in KBRS shower installation kits). We sell these drains on our online store; however, this same type drain is available at most home improvement stores. Make sure you choose a brand that will allow the "strainer barrel" (the threaded part that holds the strainer) to thread down "flush" with your finished tile. We recommend, but do not require, the Oatey brand tile shower drain (this is the brand that we sell). We must have the part # if you want to use a different drain than what is available with KBRS.
WHICH TROWEL SHOULD I USE?
In most cases, KBRS shower pan products include both a 3/4" U-Notched Trowel, and a 1/2" Square Notched Trowel. Which trowel you will need will depend on how high your drain is set "above" the sub-floor. Please refer to the guide below to determin which trowel to use for your shower installation.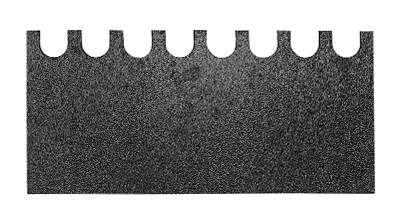 Drains 3/8" above the sub-floor, use the 3/4" U-Notched Trowel.
1/2" SQUARE NOTCHED
TROWEL
Drains 1/8" above the sub-floor, use the 1/2" Square Notched Trowel.
ARE THERE RESTRICTIONS WITH CUSTOM DRAIN LOCATIONS
While KBRS can manufacture any shape, size, and drain location for a custom shower pan, it is recommended that the drain location must be a minimum of 10" off any side/edge of the shower base to the center of hole, as locating the drain hole any closer than this can make tiling difficult during installation, and visibly steep. Exceptions can be made on a case by case basis, contact us to discuss your individual shower project needs.
WHAT SIZE HOLE DO I CUT IN THE SUBFLOOR FOR THE SHOWER DRAIN?
If you have purchased one of our tile shower drains, you will need to cut a 4-1/2" hole in the sub-floor. The drain's "body" will need to recess into the sub-floor with the drain body "flange" supported by the sub-floor. Instructions on how to properly install a tile shower drain are available with every shower base we sell.
HOW FAR DOWN DO I CUT MY PIPE FOR THE SHOWER DRAIN?
1-3/4" inches below the top surface of the sub-floor will work as per our instructions; however, we strongly recommend that you determine this measurement once you have the tile shower drain "in your hands".
DOES A SQUARE DRAIN STRAINER FIT A ROUND PIPE?
Yes. It will connect to a 2" PVC pipe.
IS THE DRAIN KIT INCLUDED?
WILL THE DRAIN FIT TO A CAST IRON PIPE?
There are adapters available. We do not sell these adapters. We recommend that you consult with a local plumber, or plumbing wholesaler about this issue. Local codes can vary.
HOW DO YOU CHANGE YOUR SHOWER DRAIN GRATE?
Changing out your showers drain grate just got a whole lot easier. Watch our KBRS Technical Director Craig Carlson as he demonstrates just how easy it is to change out our standard KBRS drain grate from stainless steel to matte black.
With a phillips head screw driver you can remove the top of the drain grate, then attach the new desired drain grate.
WHAT IS THE KBRS RETURN POLICY?
Standard or stock items may be returned within 30 days of purchase if purchased directly from KBRS, Inc - by internet, phone or fax. Standard or stock item(s) may be returned for credit or refund of the purchase price paid, less a 15% restocking fee. Custom product(s) or special orders are NOT eligible for return, credit or refund at any time; unless the product is received defective or the return is a direct result of a KBRS, Inc. error. To return an item you must first contact us via phone (866) 912-3211, or email returns@kbrsinc.com to obtain an RMA number. Item(s) must be returned in original packaging and return shipping must be paid by you, it is strongly recommended you insure your return package as KBRS will not be able to refund an item that arrives damaged and is not in re-stockable condition.
View Full Return Policy >
DOES KBRS PROVIDE RETURN SHIPPING LABELS
Currently we do not provide shipping labels to have our products returned to us. Customers are required to return their products with the shipper of their choice. It is also recommended you insure your returned items, to protect form damages that may occur from shipping. KBRS will not be able to offer refunds on products that are returned damaged. All returns must be sent back to the warehouse in re-stockable conditions.
IF ALL MY PACKAGES DO NOT ARRIVE WHAT SHOULD I DO?
Since all of your products are packaged separately, it is common for items to get separated in the shipping process. Usually the missing product will arrive the next business day. If the product does not arrive by the end of the next business day, please contact us for a complete resolution.