Ramp up the innovation for your barrier-free and roll-in accessible shower access. The KBRS Ramp is a wet area substrate used to construct an easy transition between the bathroom floor and a shower pan. This roll-in solution is lightweight yet provides the superior strength and durability necessary for easy barrier-free and roll-in shower access. The KBRS Ramp is easily installed using quality polymer modified thin-set. Ramp can be installed with a KBRS ShowerSlope™ or integrated into a custom Tile-Basin®.
The quality of every shower ramp from KBRS goes beyond durable materials and state-of-the-art construction. The core material of the KBRS Ramp is 3 lb. High Density EPS (expanded polystyrene) and is covered on both sides with a fiber mesh and epoxy.
WHAT MAKES OUR SHOWER RAMPS DIFFERENT?
Fast and easy installation

Lightweight design

Can be cut-to-fit in the field

Waterproof in the field

Design flexibility
Easily cut the ramp to fit your shower as needed in the field. The KBRS Ramp has a 8" run and a 1/4" nominal front edge. The KBRS Shower Ramp is easily installed using quality polymer modified thin-set, and in less time than traditional mortar beds. Once in place, just add your waterproofing, thin-set and decorative tile.


EASY INSTALLATION SHOWER RAMP
Dry fit KBRS Ramp to ensure proper size (cut-to-fit, if required). Using a 1/2" square notched trowel, apply an approved thin-set to substrate as if laying a tile. Lay KBRS Ramp in place and firmly embed into thin-set. Apply approved ShowerSeal® Polyurethane Sealant (or equal) to all gaps and joints. Apply waterproofing membrane as required.
Check out our Resources section for product-specific installation guides, instructional videos and more for a seamless installation experience. Follow waterproofing instructions after the ramp has been installed to complete your shower installation. Once cured, apply tile as desired.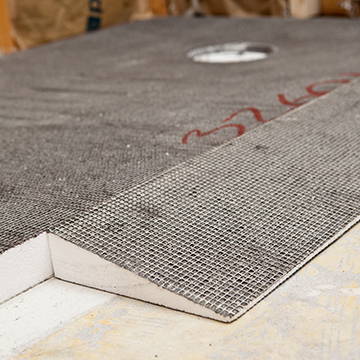 DRY FIT the ramp - then mark area around ramp that will need to be troweled with thin-set.
(Note: ramps can be cut-to-fit with a saw)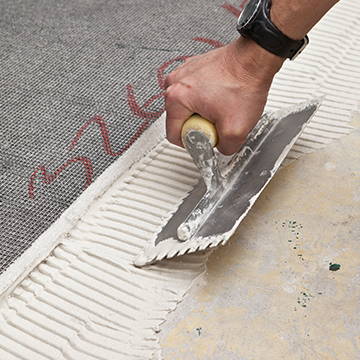 Trowel the marked area where the ramp will be put into place.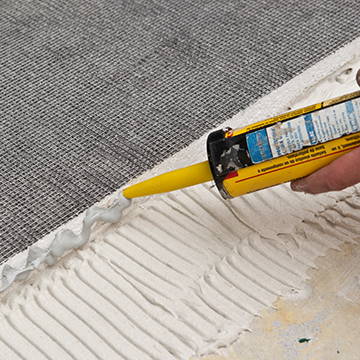 Apply a generous bead of polyurethane sealant to the outer edge of the slope where the ramp will "butt up" against it.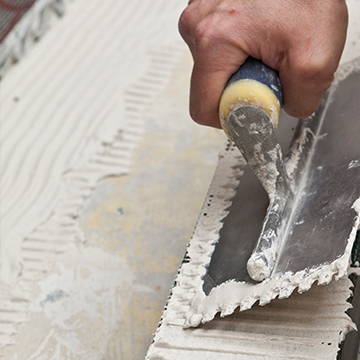 Butter the bottom of the ramp with thin-set and firmly press it into place up against the slope. Distribute weight on top of the ramp to ensure it is fully embedded into the thin-set.