KBRS SHOWER WATERPROOFING MATERIALS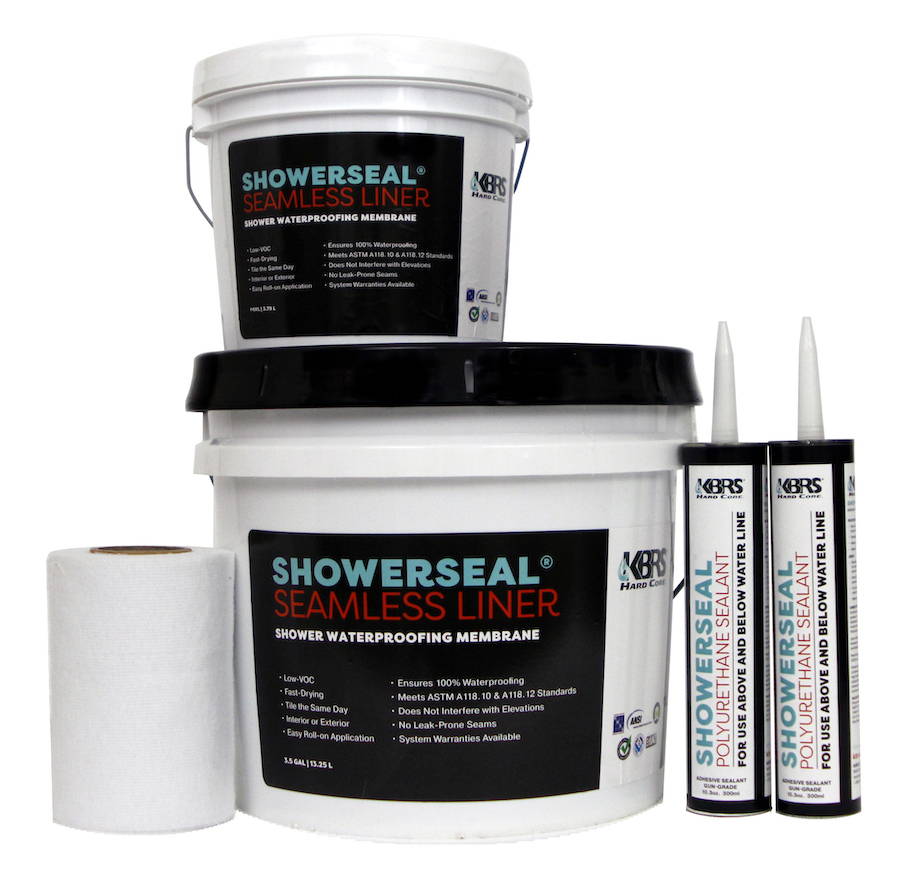 Watertight solutions? We've got you covered. Seamlessly waterproofing your entire shower has never been easier or safer thanks to our trio of impermeable products: KBRS ShowerSeal® Polyurethane Sealant, ShowerSeal® Seamless Liner, and ShowerSeal® Gauging Fabric.
ShowerSeal® is a family of KBRS waterproofing products that when used together create a completely seamless water barrier for the entire shower. While all KBRS, Tile-Basin® shower bases, niches and tile ready seats are already pre-coated with our leak-free ShowerSeal® waterproofing membrane, using the KBRS ShowerSeal® family of products while installing your shower adds the highest level of waterproofing available for a leak-free shower installation that's second to none.
Explore our Hard Core line-up of waterproofing products:
SHOWERSEAL® LIQUID SHOWER LINER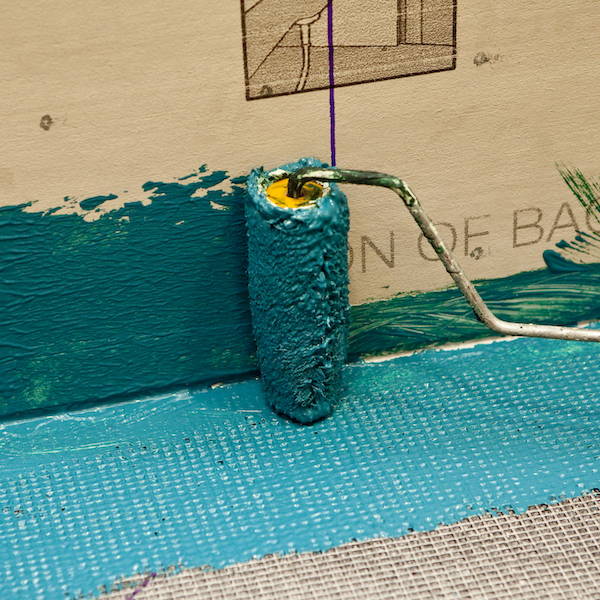 Specially formulated for tile showers, this "liquid rubber" product is easily applied using no more than a paint roller or brush. No sticky, messy application, no large sheets to glue to the wall, no overlapped seams to fail and leak... just smooth, even, seamless coverage you can count on.
Simply apply a few coats of ShowerSeal® Seamless Liner (allow for the required time to cure in between coats), then follow with the installation of your thin-set and tiles. You will not only have a beautiful shower, but also complete peace of mind that it is totally leak-proof.
Available in 1 gal & 3.5 gal
SHOWERSEAL® POLYURETHANE SEALANT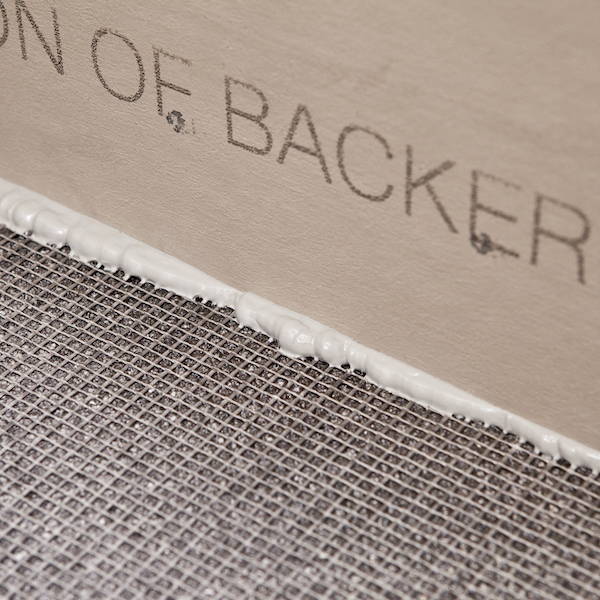 KBRS ShowerSeal® Polyurethane Sealant is a marine-grade application that seals joints, covers screw heads, seals tile shower drains, and waterproofs shower niches, seat joints, and backer board installation. Use it within KBRS Tile-Basin® flanges, as well as ShowerSlope™ installation prior to applying additional ShowerSeal® membrane and fabric products.
ShowerSeal® Polyurethane Sealant is specifically developed for use as a permanent waterproofing sealant in the construction of bathroom showers and exterior decks. Due to its exceptional waterproof properties, it can be used to seal cracks and joints above and below the waterline. This VOC compliant, versatile product has excellent adhesion to PVC, CBU, FRP, plywood, and most plastics and composites found in the construction industry.
Available in 2 pack and 12 pack cartons.
SHOWERSEAL® GAUGING FABRIC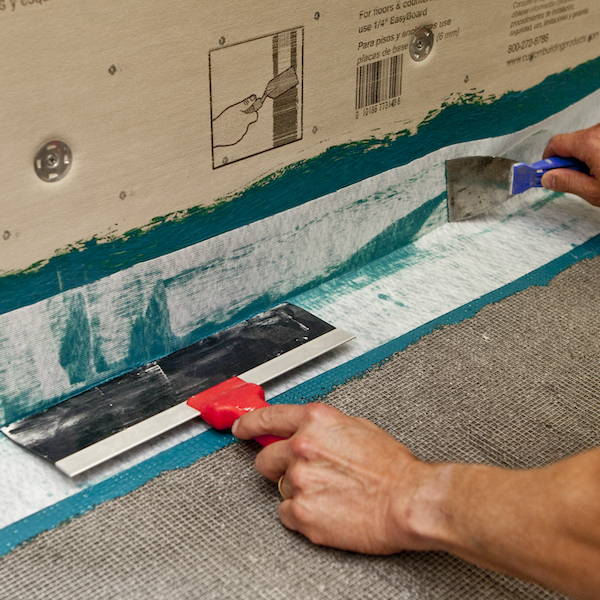 KBRS ShowerSeal® Gauging Fabric is part of a "team" of waterproofing products available for your shower installation. Our Seamless Shower Gauging Fabric is a 6" woven polymeric material that is used in conjunction with KBRS ShowerSeal® Liquid Liner (or equal) to ensure proper thickness of the waterproofing membrane in a wet area assembly.
This shower seam fabric is used to reinforce joints and seams in the shower area. It is designed to be "sandwiched" between 2 fresh coats of KBRS ShowerSeal® Seamless Liquid Liner. It is embedded into a fresh coat of liquid membrane applied to any corner or seam within the shower stall, then another coat of waterproofing membrane is applied on top of the fabric. This will provide the proper waterproofing "gauge" when installing your shower pan, backer board, or other shower accessories such as linear drains, shower seats, niches, and curbs.
Available in 6" x 75 ft rolls.
---
Unlike sheet-applied waterproofing, there are no overlapping seams that can fail if not installed properly. When you apply ShowerSeal® Seamless Liner to your entire shower, you add the highest level of waterproofing available.
WHAT MAKES OUR WATERPROOFING DIFFERENT?
Easy roll-on application.

Completely "rubberizes" your entire shower.

No large "sheets" to glue to the walls.

No seams or overlaps to fail and leak.
Monolithic seamless coverage.

Ensures 100% waterproofing.

Apply thin-set and tile directly to the surface when cured.
MANUFACTURED WITH KBRS HARD CORE TECHNOLOGY
A shower's tile assembly is only as good as the substrate in which it is installed. A KBRS ShowerSlope™ is the most rock-solid, prefabricated shower pan available. It's a pre-sloped, structurally sound, textured substrate that will prevent tile assembly failure due to ponding water, deflection, and poor thin-set bonding.
---
This instructional video will demonstrate how to install the KBRS, Inc. ShowerSlope™, HardCurb®, and how to apply the KBRS ShowerSeal® waterproofing system to ensure a completely leak-proof system for absolute peace of mind when installing a tile shower. The KBRS Shower Systems is ideal for replacing traditional mortar beds during shower construction. KBRS pre-sloped shower pans offer reassurance with a fast and easy installation. A ShowerSlope™ can be cut-to-fit in the field, making it ideal for on site customization and adjustments for out of square walls. The KBRS ShowerSlope™ can be ordered at any custom size, shape and with any drain location.