Premier Tile Shower Drain
Round Stainless Steel Shower Drain with Screw on Strainer
SKU: 42263
---
Free Shipping is for continental US only.
For Alaska, Hawaii, Canada, Mexico and the Caribbean please call:
(912) 352-0442 or (866)912-3211.
---
CUSTOM SHOWER PAN AND BENCH OPTIONS:
To quote a custom shower base, or custom shower seat please submit an
order form, CLICK HERE for custom order forms.
POINT DRAIN SHOWER DRAINS
Today's shower designs offer endless options and configurations, giving customers the largest selection than ever before. The new KBRS Premier shower drain not only meets the needs of today's customer, it can enhance the appeal of tile, pebble, stone, marble showers, and more.
Our new Premier Drain is ideal for remodels and new construction, and its low profile design allows for easy installation in tight spaces, like retrofits and renovation.
KBRS shower pan products fit an industry standard 3-piece tile shower drain (clamping-ring type); however, a KBRS ShowerSlope™ or Tile-Basin® can be manufactured to meet your custom residential or commercial drain requirements as well. A KBRS shower system is the solution to all your residential and commercial shower application needs. KBRS also offers side outlet drain options that make replacing an old tub with a shower base especially easy.
Dimensions:
(FIGURE 1)
A.) Strainer Dimension: 4.37"
B.) Flange Diameter: 5-7/8"
C.) Range: 3.76"
D.) Base Height: 2.95"
E.) Barrel Thread: 2" - 11.5 NPSM
F.) Hub Connection: 2" Sch. 40
Features & Materials:
Drain Base & Barrel: PVC
Strainer: 18 Gauge 304 Stainless Steel
Approvals & Listings:
Uniform Plumbing Code (UPC®)
International Plumbing Code (IPC®)
ASME A112.18.2-2015/CSA B125.2
National Plumbing Code of Canada
---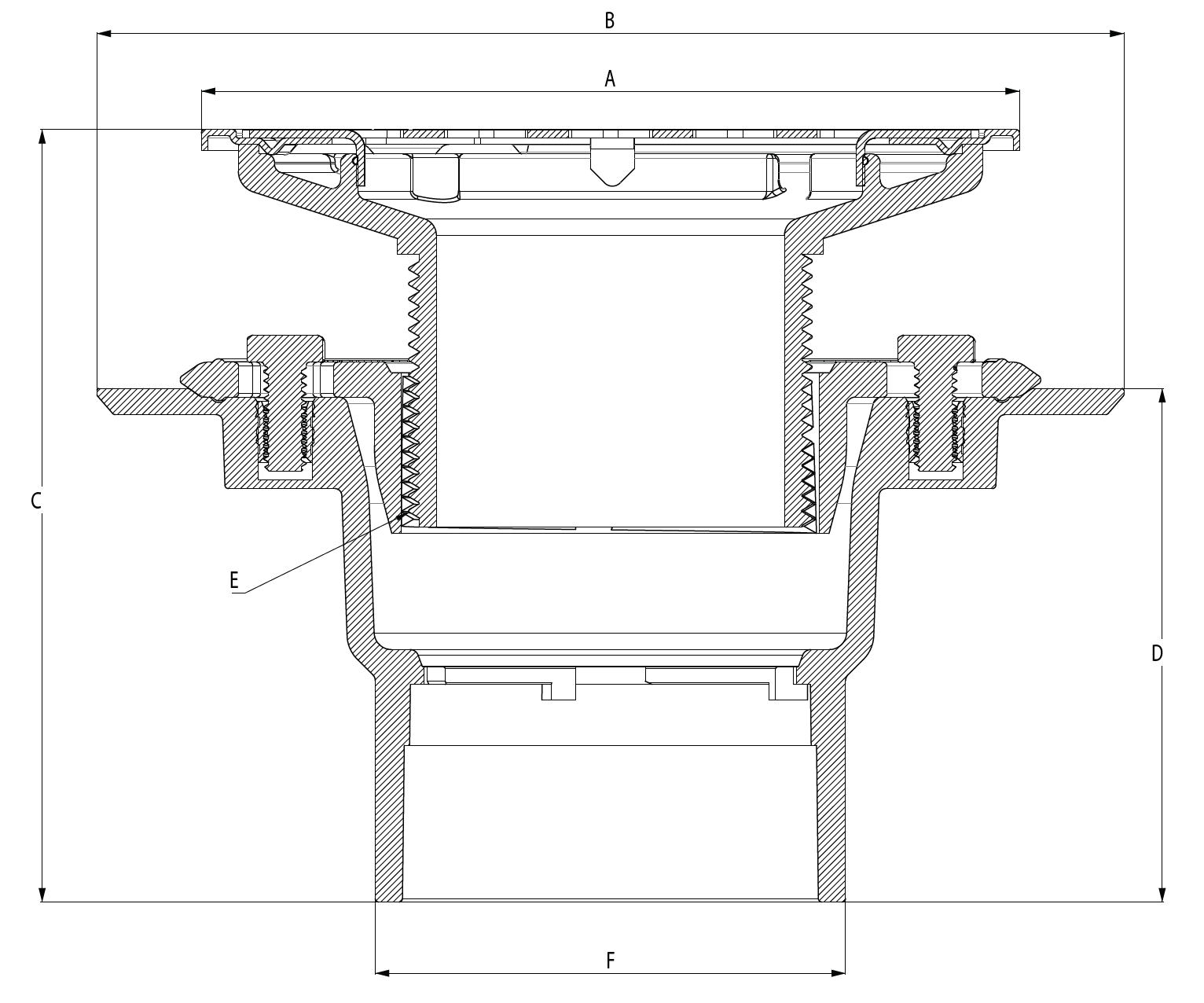 Why Choose KBRS Shower Drain?
Standard 3-Piece PVC tile shower drain
Easy subfloor installation
Comes with finished Tile-Ring to protect grout lines around strainer
Reversible clamp collar (Clamp collar can be reversed to gain 1" of additional installation height)
Improved bolt slots for fastening collar to drain base
Can be used for residential, commercial, new build or remodel
IMPORTANT: DO NOT recess the shower drain into the subfloor. Oatey Shower Drains for Tile Shower Bases are designed for use with tile or marble showers where a shower pan liner is used. The low profile design allows for installation in tight spaces. Proper drain installation is critical for creating a leak-free shower basin. Cut a 4.5" hole into the subfloor for your drain to be installed onto.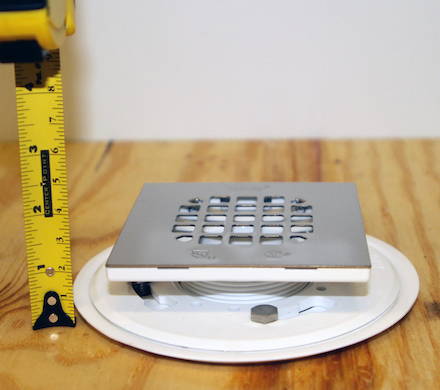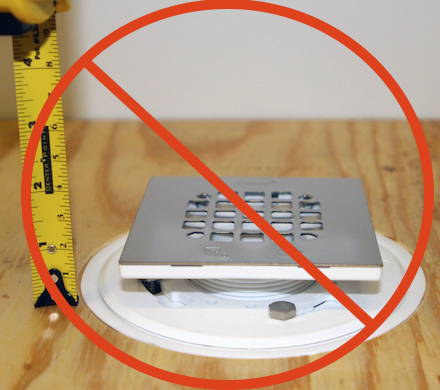 ---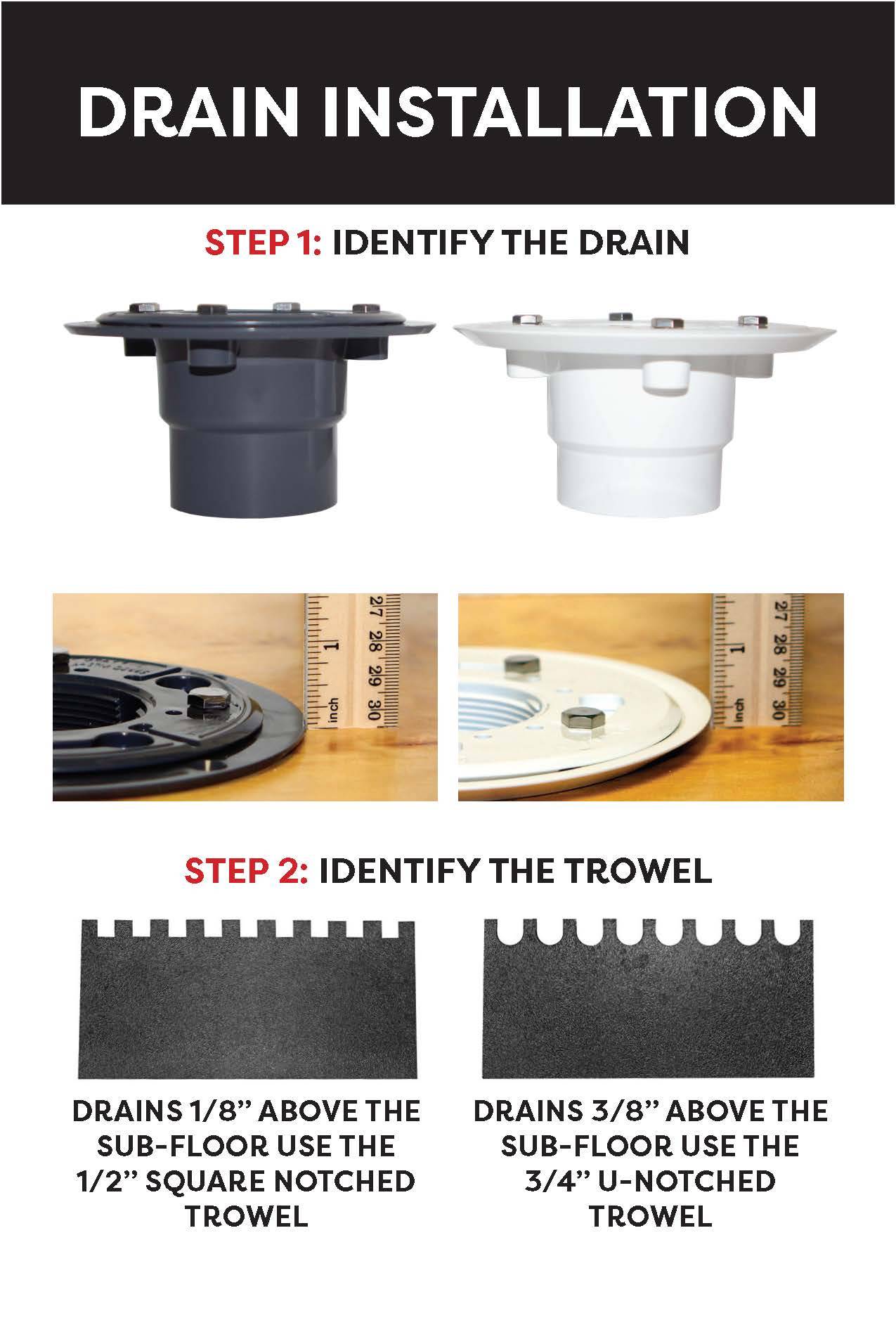 + Frequently Asked Questions
WHAT KIND OF THIN-SET SHOULD I USE?
Any quality "polymer modified" thin-set will do just fine. Do not use a premixed thin-set (i.e.... water already added). A premixed thin-set that comes in a bucket with water already added will not cure properly. Remember: No premix! Always add your own water! Different terms for modified thin-set include: modified thin-set, modified thin set with a latex additive, fortified thin-set, polymer modified thin-set, polymer fortified blended thin-set. The thin-set must meet or exceed ANSI A118.4 and ANSI Al18.11 requirements when mixed with water.
Three of the most recognized brands:
1. Custom Building Products: usually found at The Home Depot. (Product Names: Versa Bond, Fortified, FlexBond Fortified and their elastic membrane is called RedGard)
2. Laticrete: usually found at The Home Depot, Lowe's and other tile suppliers. (Product Names: Laticrete 254 Platinum and their elastic membrane is called Hydro Ban).
3. Mapei: usually found at The Home Depot, Lowe's, Daltile and other tile suppliers (Name of product: Ultra Flex 2 and their elastic membrane is called Aqua Defense)
WHAT'S THE DIFFERENCE BETWEEN A TILE-BASIN™ AND A SHOWERSLOPE™?
The ShowerSlope™ is identical to the Tile-Basin® with two exceptions. The ShowerSlope™ DOES NOT come factory prepped with an elastomeric waterproofing membrane coating, or with factory installed perimeter components (i.e. flange or curb). This allows the ShowerSlope™ to be "cut-to-fit" in the field. An elastomeric waterproofing membrane must be properly applied to surfaces of the ShowerSlope™ and to the seams where the ShowerSlope™ and the tile backer board meet.
View Video >
WHAT KIND OF SHOWER DRAIN IS RECOMMENDED?
A standard (PVC or ABS) 3-piece tile shower drain that uses a "clamping ring", will work fine. We sell these drains on our online store; however, this same type drain is available at most home improvement stores. Make sure you choose a brand that will allow the "strainer barrel" (the threaded part that holds the strainer) to thread down "flush" with your finished tile. We recommend, but do not require, the Oatey brand tile shower drain (this is the brand that we sell).

WHAT SIZE HOLE DO I CUT IN THE SUBFLOOR FOR THE TILE DRAIN?
If you have purchased one of our tile shower drains, you will need to cut a 4-1/2" hole in the sub-floor. The drain's "body" will need to recess into the sub-floor with the drain body "flange" supported by the sub-floor. Instructions on how to properly install a tile shower drain are available with every shower base we sell.

HOW FAR DOWN DO I CUT MY PIPE FOR THE TILE SHOWER DRAIN?
1-3/4" inches below the top surface of the sub-floor will work as per our instructions; however, we strongly recommend that you determine this measurement once you have the tile shower drain "in your hands".

DOES A SQUARE DRAIN STRAINER FIT A ROUND PIPE?
Yes. It will connect to a 2" PVC pipe.
WILL THE DRAIN FIT TO A CAST IRON PIPE?
There are adapters available. We do not sell these adapters. We recommend that you consult with a local plumber, or plumbing wholesaler about this issue. Local codes can vary.

IS THERE ANY SIZE KBRS CAN'T OR WON'T MAKE?
The short answer is....we haven't found one yet. We love a challenge.
To order a custom shower pan or shower seat: CLICK HERE >

HOW LONG DOES IT TAKE TO MANUFACTURE A CUSTOM SHOWER PAN?
Our average lead-time is 7-10 business days (Mon-Fri). This could slightly vary due to certain manufacturing conditions, in which if this becomes an issue you will be contacted and notified by a KBRS, Inc. representative.

CAN I ORDER A RAMP ATTACHED TO THE TILE-BASIN®?
Yes! We can custom manufacture a ramp attached to a Tile-Basin®. We can also add a radius on a custom ramp per your specifications.
HOW CAN I ENSURE THAT THE SHOWER BASE IS COMPLETELY EMBEDDED IN THE THIN-SET AFTER I SET IT IN PLACE?
Typically, professional installers use boxes of tile or buckets of water to supply a uniform weight to the shower base until the thin-set is cured. Following this procedure will result in a "rock-solid" installation. Also, be sure to securely tighten the shower drain's "clamping ring" to the drain body in the sub-floor as recommended in the installation instructions.

I AM INSTALLING ON A WOOD SUBFLOOR, CAN I APPLY THIN-SET DIRECTLY TO THE SUBFLOOR?
If your sub-floor is structurally sound (no rotting...etc.) and level (very important), then applying thin-set directly to the sub-floor is okay. However, we do not recommend applying thin-set directly to particleboard.
WHAT IS THE KBRS RETURN POLICY?
Standard or stock items may be returned within 30 days of purchase if purchased directly from KBRS, Inc - by internet, phone or fax. Standard or stock item(s) may be returned for credit or refund of the purchase price paid, less a 15% restocking fee. Custom product(s) or special orders are NOT eligible for return, credit or refund at any time; unless the product is received defective or the return is a direct result of a KBRS, Inc. error. To return an item you must first contact us via phone (866) 912-3211, or email returns@kbrsinc.com to obtain an RMA number. Item(s) must be returned in original packaging and return shipping must be paid by you, it is strongly recommended you insure your return package as KBRS will not be able to refund an item that arrives damaged and is not in re-stockable condition.
View Full Return Policy >
---