KBRS CORNER SHOWER SHELVES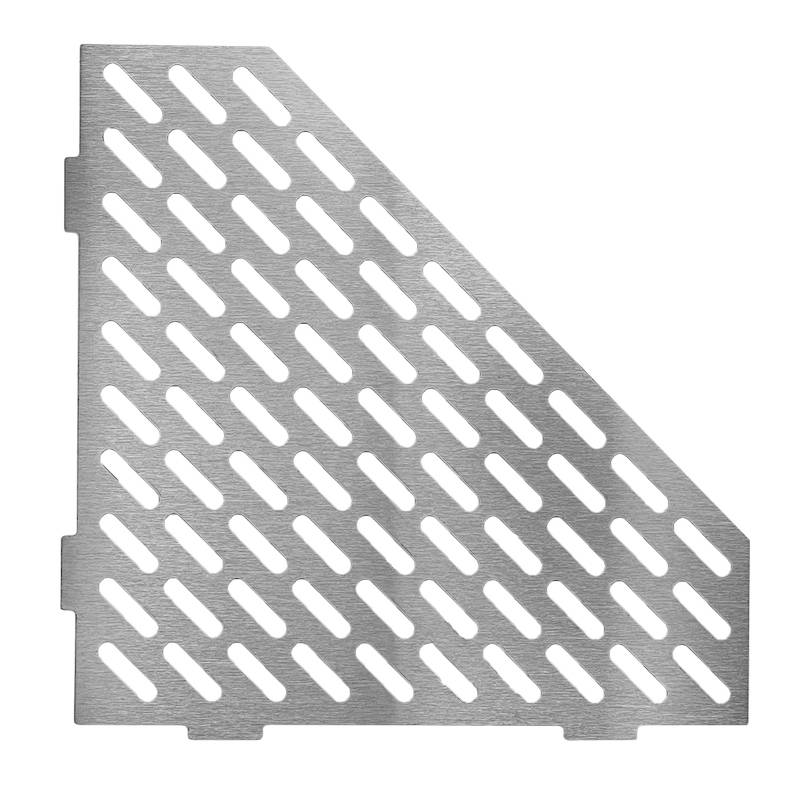 Thanks to our relentless innovation and unmatched support, KBRS is always in your corner. Our cutting-edge corner shower shelves install easily and are available in a variety of finishes, shapes and sizes. The premium construction resists daily wear and prevents water stains. KBRS corner shelves can be retrofitted to any existing shower without drilling and will seamlessly integrate into your desired joint pattern.
---
This space-saving mounted stainless steel corner shower shelf helps simplify your shower by adding the storage you need without sacrificing the space you want. Available in stainless steel, oil-rubbed bronze, or matte black. With multiple shelf shapes and grate styles to choose from, you'll find the perfect shelf to match your custom tile shower.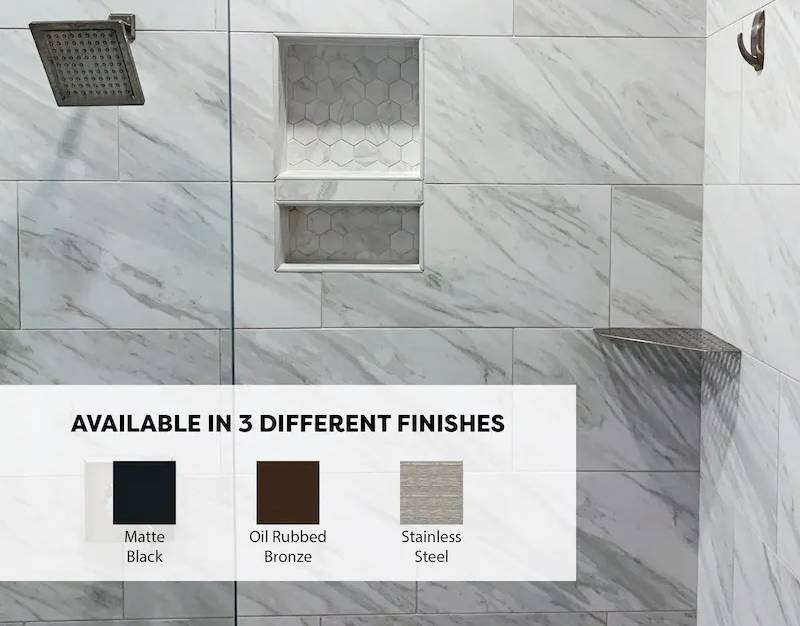 WHAT MAKES OUR SHOWER SHELVES DIFFERENT?
Quick and Easy to Install

Retro-fit to Any Existing Shower

Available in Different Finishes
---
EASY INSTALLATION SHOWER KIT
This stainless corner shower shelf is easily attached in your shower corner of choice without drilling. Check out our Resources section for product-specific installation guides, instructional videos and more for a seamless installation experience.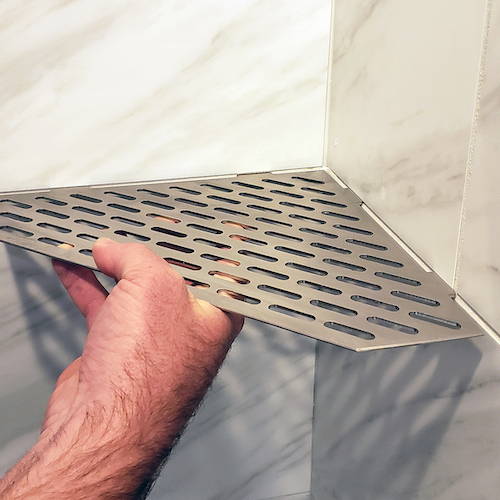 STEP 1:
New Install: Mark installation area, skit to STEP 4.
Retrofit: Determine grout joint where shelf will be installed.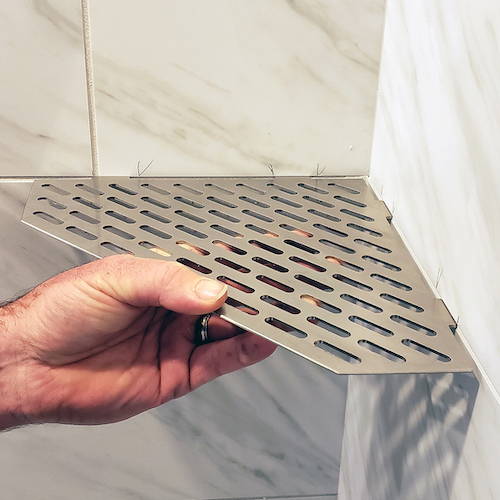 STEP 2:
Mark the tiles where shelf tabs will be installed - 1/4" wider than tabs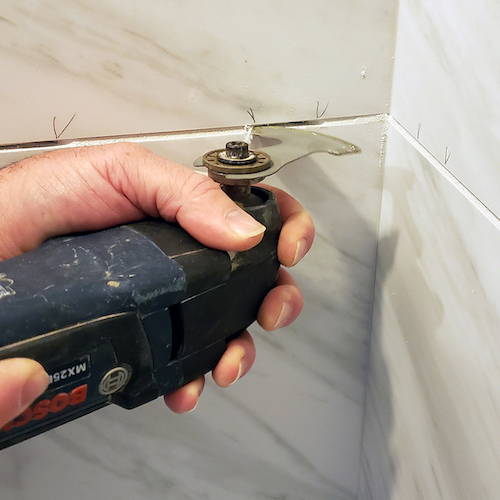 STEP 3:
Remove grout form these locations using grout removal tool. Exercise caution as to not damage the waterproof membrane.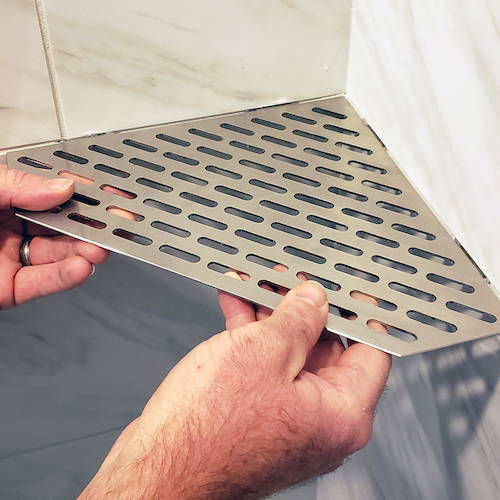 STEP 4:
Clean installation area of debris. Fill the voids in the joints with a silicone sealant.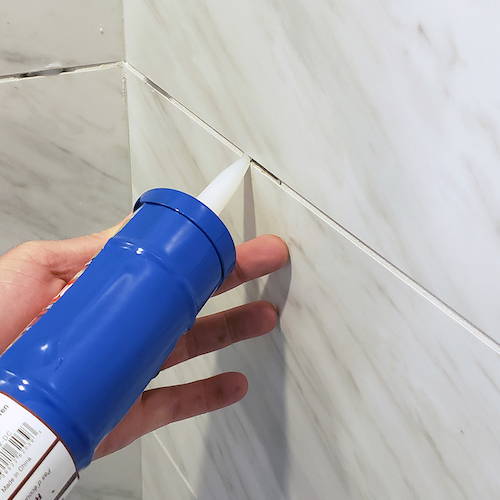 STEP 5:
Insert the KBRs corner shelf and provide support, if required.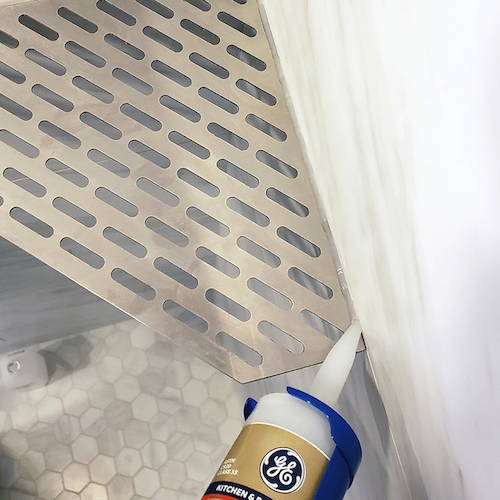 STEP 6:
Seal the joint between the shelf and the wall tile with silicone or color matched caulk (it is necessary to caulk the top and bottom of the shelf). Tool smooth, and adhere to sealant cure time before use.