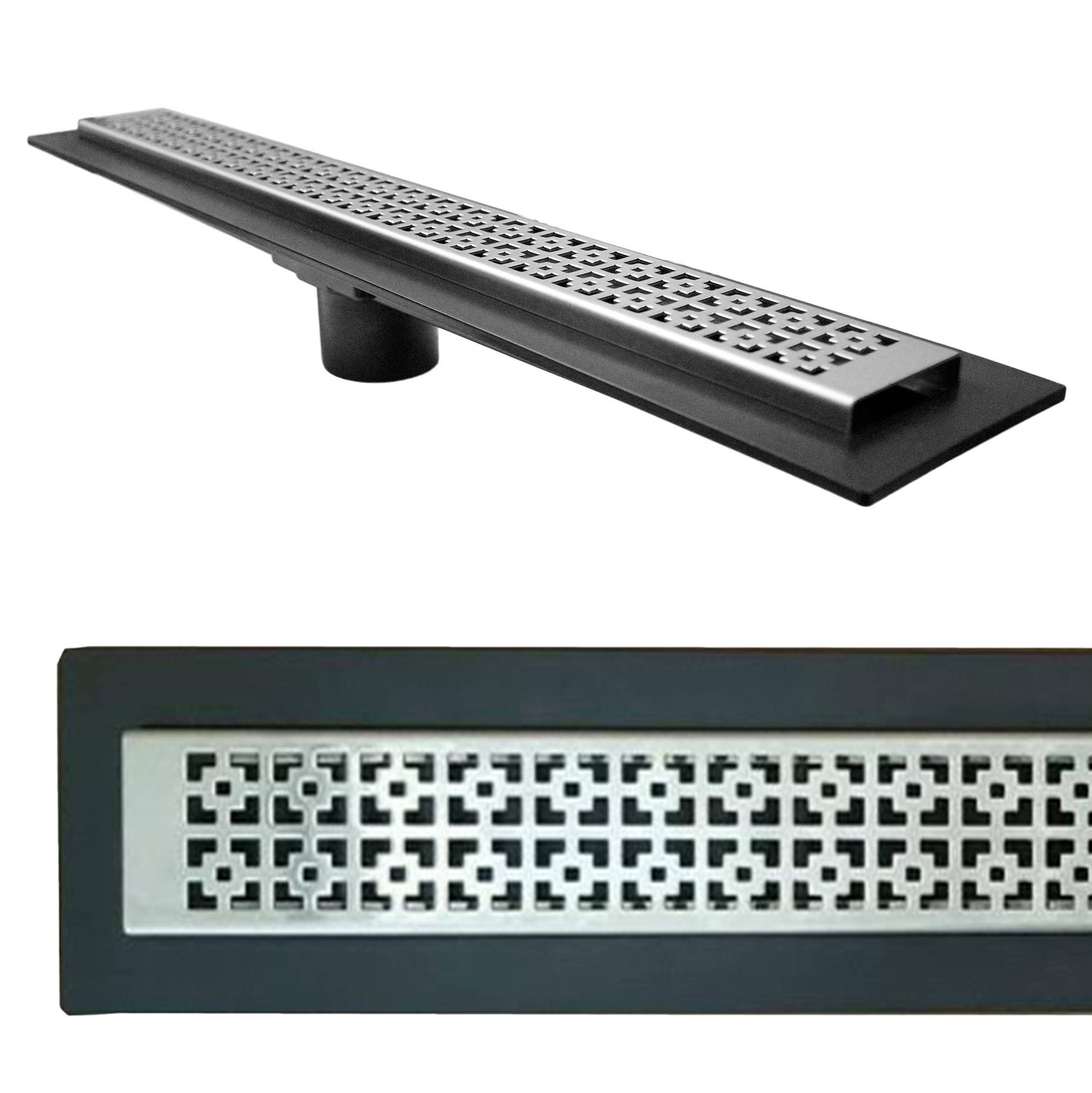 Stainless Steel Mission Style
Linear Shower Drain Kit

Included in the Linear Shower Drain Kit:
• QTY 1 Mission Stainless Steel Linear Drain Grate
• QTY 1 ABS Drain Body
• QTY 1 Pack Grate Rises
• QTY 1 Linear Hair Strainer

About this Linear Drain Kit:
Complete with stainless steel style linear grate, easy to install ABS drain body with 1" textured flange, grate risers for tile height adjustments (if needed), and ABS hair strainer.
High quality American made linear drain system adds modern style and functionality to any custom tile or stone shower installation.
Step onto the newest in modern design, as these state of the art sleek, elegant and advanced linear shower drain designs are proven to deliver the aesthetics and performance you desire. Buy and Install with confidence, KBRS Linear Drains, the best value in the business.


Why Choose KBRS Linear Drains:
Low Profile Streamlined Design

Ideal for Tub-to-Shower Conversions

One-Piece Injection Mold Construction

1" Textured Bonded Flange Makes for Easy Waterproofing Installation

Plank Pitch Allows for Large Format Tile or Stone to be Used on Shower Floor

Patent Pending Grate Risers™ Allow Easy Height Adjustment for Different Surface Tile Thickness
*Free Shipping is for continental US only. For Alaska, Hawaii, Canada, Mexico and the Caribbean please call (912) 352-0442 or (866)912-3211.
Seamless Design
Fast and Easy Installation
Fully Integrated Solution
Easily Integrate with Our Shower Pans
Use with Mud Applications if Desired
KBRS linear shower drains can be installed with a KBRS Tile-Basin®, KBRS ShowerSlope™ or in linear mudbed installations.
See instructions below for linear shower drain installation.
IMPORTANT: Linear drains are most commonly placed against the end or side wall or shower threshold; however they can be placed anywhere as long as there is a 1/4" per square foot slope to the drain. (Check with your local plumbing industry standards when attaching linear drain to existing plumbing).
Tile-Basin® Installation:
ShowerSlope™ Installation:

Linear Drain Installation:
GENERAL CONSIDERATIONS
Linear drains are best placed against the end or side wall or shower threshold.
Any waterproofing layer should be supported by a pitched slope of 1/4" per foot towards the drain whether waterproof membrane coat is under thick bed mortar or on top.
Reinforcing Fabric should always be used with Liquid Applied Membranes for gaps of more than 1/8". It is recommended to use reinforcing fabric where the drain flange and mortar bed meet as well as for any floor to wall transitions for added durability.
If installing a curbless shower, position drain parallel to entry (front, middle or back of shower) so plank pitch doesn't compromise an even/level entry.
If placing drain flush to walls - back and/or sides of flange should be set against the studs or sill plate (center of waste pipe needs to be 2 1/4" out) and backer board should be installed directly on top of flange.
Consider tile thickness and thin-set to make any needed adjustments. Finished wall tile should sit approximately 1/16" from the inside of the drain cavity wall to allow for proper grate placement.
Set floor tile 1/16" from the edge of the grate to allow for smooth installation and removal of grate.
Linear Drain Grate Risers (included with stainless steel grates) should be used to install the grate at the proper height, slightly below level of surface tile (approx. 1/16") to ensure proper drainage.
METHOD 1 - TRADITIONAL PRIMARY SHOWER PAN (UNBONDED MEMBRANE)
Waterproofing installed under thick-bed mortar using Liquid Applied membrane. This method must be used with a traditional clamping ring type drain assembly with clear weep holes and is performed in exactly the same way as a traditional shower drain assembly.
A 2 inch threaded coupling is used to connect the linear drain body to the drain sub-assembly (with clamping ring). Mortar should be packed under the linear drain body to support it level and in place.
METHOD 2 - BONDED MORTAR BED INSTALLATION
Waterproofing is installed on top of the plank-pitched mortar bed and adhered directly to the 1 inch textured bonding flange of the linear drain. Either a liquid applied membrane or a bonded sheet membrane (ANSI 118.10) can be used for this installation type. When using liquid waterproofing membrane it is recommended to use reinforcing fabric where the drain flange and mortar bed meet for the most durable installation.
In this method the 2 inch outlet from the linear drain is attached to the waste line using a 2 inch coupling according to plumbing industry standards. Mortar should be packed under the linear drain body to support it level and in place. Apply liquid or sheet membrane to the flange, mortar bed and shower system according to manufacturers instructions.
USING INSTALLATION METHODS 1 & 2 TOGETHER FOR ADDED SECURITY
Many industry professionals are using both a traditional primary shower pan and surface level waterproofing together for double protection and peace of mind. Waterproofing the entire shower enclosure may also help provide a worry free install.