Tile-Basin Product Details
29 Available Standard Sizes
Call (866) 912-3211 for Custom Linear Quote
Order a Custom Tile-Basin® or Linear Tile-Basin®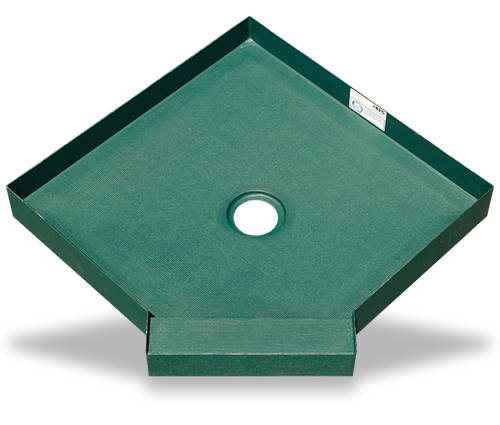 Patented Leak-Proof Design
The patented Tile-Basin® has become the most trusted ICC approved tileable shower base in North America. The Tile-Basin® is manufactured with KBRS Hard Core Technology, making it rock-solid, 100% leak-proof (guaranteed) and will inhibit mold growth in the substrate.
Custom Showers Any Shape or Size
KBRS has the unique ability to manufacture any shape, or size Tile-Basin® with any drain location that your design specifications may require. Just submit one of our simple Tile-Basin® custom order forms and we will promptly manufacture and ship a custom shower pan that is specific to your tile shower application.
Peace of Mind for Your Shower
The factory-attached perimeter flange is engineered to prevent water from escaping from the shower area behind the tiled walls due to wall seepage or back-up caused by clogged drain.
Patented Shower Curb Options
If you specify a shower curb, a KBRS standard will be factory attached; however, our self-sealing HardCurb® (patented) is available upon request as an upgrade (additional charges will apply). We can custom manufacture a shower base to any geometric configuration imaginable, with any desired drain location that will connect to most major-brand residential and commercial tile shower drains.
Custom Linear Showers
Linear drain options are also available with most custom Tile-Basin® designs. Scroll down below to Custom Order Forms to order a linear shower pan Tile-Basin®. The KBRS Linear Line is a rock-solid alternative to a field-sloped mortar bed. Our Linear Tile-Basin® comes factory waterproofed with a liquid-applied positive side membrane. Our linear shower pans are lightweight, yet will provide the superior strength and durability necessary for a successful tile shower installation.
(Note: Due to geometric constraints, some size, shape, and drain location restrictions may apply*)
*The minimum drain location from any stud wall to the center of the drain for a Point Drain Tile-Basin® is 10". Exceptions can be made on a case by case basis after consulting your customer service representative.
*Please refer to your custom order form for more information about minimum drain shower pan limitations. Exceptions can be made on a case by case basis after consulting your customer service representative. Consider this when you order your drain, KBRS linear drain bodies are 2" larger than a linear drain grate. This linear drain body flange allows for easy waterproofing during installation.