KBRS TILE-BASIN® READY TO TILE SHOWER BASE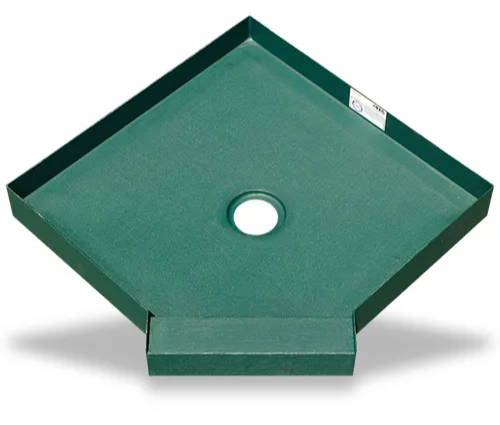 Cover your bases with this revolutionary tile ready shower base. The Tile-Basin® is manufactured with KBRS Hard Core Technology, making it rock-solid and 100% leak-proof (guaranteed). This unique shower base for tile is customizable, easy to install, and inhibits mold growth in the substrate. It comes equipped with a factory applied perimeter flange and/or curb/ramp combination to meet any custom specifications. The Tile-Basin® can also be manufactured as a custom linear shower.
The patented leak-proof design makes Tile-Basin® the most trusted ICC approved tileable shower base in North America.
The factory-attached perimeter flange is engineered to prevent water from escaping from the shower area behind the tiled walls due to wall seepage or back-up caused by clogged drain.
---
ABOUT THE KBRS TILE-BASIN®
The Tile-Basin® is a tile ready wet area substrate that provides the required positive floor drainage in a tile shower assembly that will be utilizing a clamping-collar type shower drain. The Tile-Basin® has a unique drain connection design that can be specified to work with either a large commercial or standard residential shower drain. Once installed, it is ready to tile. The Tile-Basin® is lightweight, yet will provide the superior strength and durability necessary for a successful tile shower installation. It is easily installed using modified thin-set mortar. The Tile-Basin® is available in standard and custom sizes, including linear drain configurations.
WHAT MAKES OUR SHOWER BASINS DIFFERENT?
#1 choice for tile surface applications.

3/4" U-Notched trowel included.

Fast Free Shipping for In-Stock Designs

Custom bases ship within 7-10 business days.

Easy to install, ideal for home owners and DIY'ers.

20 - 30 minute installation. Use common modified thin-set.

An affordable mortar replacement, cut down on labor costs.

Lightweight and no messy epoxy mastics are required to set your tiles.

Easily clamps to most popular tile shower drain brands.
No metal flashings are required. (View)
Clamps to a common tile shower drain. (View)
Equipped with a 1/8" patented "Leak-Protection" perimeter flange. (View)

No sheet liner to puncture and leak and easily adjusted to "out-of-square" walls.

Solid core construction, foot traffic ok immediately after installation.

Available with ADA Barrier-Free ramp.

Curb upgrades available for supporting glass enclosures.

Reduces Sound Transmission
MANUFACTURED WITH KBRS HARD CORE TECHNOLOGY
The Point Drain Tile-Basin® is a "turn key" tile ready solution to building a 100% leak-proof shower floor. The KBRS Tile-Basin® is pre-waterproofed under strict quality controlled conditions and comes equipped with a factory applied perimeter flange and/or curb/ramp combination to meet any custom specifications. Linear drain, roll in ramp and/or barrier free options are also available.
If you do not specify a shower curb, a KBRS standard will be factory attached; however, our patented, self-sealing HardCurb® is available upon request as a custom upgrade (additional charges will apply). We can custom manufacture a shower base to any geometric configuration imaginable, with any desired drain location* that will connect to most major-brand residential and commercial tile shower drains.
MULTIPLE STANDARD AND CUSTOM OPTIONS
The Tile-Basin® comes in over 25 standard sizes with multiple shape and drain location options, making it easy to find the right shower pan for your project. Looking for more flexibility? KBRS is the leader in custom shower pans, with the unique ability to custom manufacture ANY shape, ANY size, with ANY drain location*. We can even customize a shower base to just about any drain type standard or linear. Visit our custom order page to learn more about our Hard Core custom capabilities and get started on your fully custom tile shower.
---
TILE-BASIN® VS SHOWERSLOPE™
What's the difference between the Tile-Basin® and ShowerSlope™? The ShowerSlope™ is identical to the Tile-Basin® with two exceptions. The ShowerSlope™ DOES NOT come factory prepped with an elastomeric waterproofing membrane coating, or with factory installed perimeter components (i.e. flange or curb), the ShowerSlope™ can also be cut-to-fit in the field, where as the Tile-Basin® cannot. Visit our Resources page for more information to help you decide which product is right for your shower project.
---
POINT DRAIN TILE-BASIN® INSTALLATION
The KBRS Tile-Basin® is easily installed using quality polymer modified thin-set, and in less time than traditional mortar beds. Dry fit Tile-Basin® to ensure proper size and drain alignment. Using the appropriate notched trowel, apply an approved modified thin-set to substrate as if laying a large format tile. Apply a generous bead of ShowerSeal® Polyurethane Sealant (or equal) around the outside perimeter of the shower drain flange. Lay Tile-Basin® in place and stand on it to ensure proper bond beneath. Reattach the tile drain's clamping-collar and tighten bolts.
---
LINEAR TILE-BASIN® INSTALLATION
The KBRS Linear Line is a rock-solid alternative to a field-sloped mortar bed. Our linear shower pans are lightweight, yet will provide the superior strength and durability necessary for a successful tile shower installation. KBRS Linear Line shower pans are easily installed using modified thin-set mortar. Linear shower pans are available in standard sizes and unlimited custom sizes (up to 9500 square inches). The KBRS Linear Tile-Basin® is a fully waterproofed linear shower solution. It is specially designed with a patented perimeter flange that is not only easy to install but is guaranteed to prevent leaks. Built with a completely integrated perimeter flange, and hard curb attachments.
---
* While KBRS can manufacture any shape, size, and drain location for a custom shower pan, it is recommended drain location must be minimum 10" from any side of a shower base because this can make tiling difficult during installation, and make the shower basin edge visibly steep. Exceptions can be made on a case by case basis after consulting your customer service representative.
*Please refer to your custom order form for more information about minimum drain shower pan limitations. Consider this when you order your drain, KBRS linear drain bodies are 2" larger than a linear drain grate. This linear drain body flange allows for easy waterproofing during installation.
Note: Custom bases and shower pans are manufactured to a +/- 1/8" (3.175mm) tolerance.